TAROT

According to Tarot historian Tom Tadfor Little, traditional playing cards were first seen in Europe in 1375, having been brought over from the Islamic societies where they had been used for centuries before that. These cards were not, however, Tarot cards. At this point, he says, there is no evidence to show that Tarot cards had yet been created, which goes against many claims that ordinary playing cards evolved from the original Tarot deck.
It wasn't until 1440 that the cards that were most likely the origin of Tarot cards were first mentioned. In a letter from the Duke of Milan, there was a request for several decks of "triumph" cards to be used at a special event. The letter differentiated triumph cards from regular "playing" cards.
It does appear, however, that the first Tarot decks were created as a game. There were four suits with cards numbered one through ten and also court cards that included a queen, king, knight and page. The deck also included 22 symbolic picture cards that did not belong to any suit. The decks were used to play a game called triumph that was similar to bridge. In triumph, 21 of the 22 special picture cards were permanent trump cards. The game spread quickly to all parts of Europe. People began referring to as tarocchi, which is an Italian version of the French word tarot, around 1530.
In 1781, in France and England, followers of the occult discovered Tarot cards. They saw the symbolic pictures of the cards as having more meaning than the simple trump cards they were used for at the time. They used the cards as a divination tool, and occult writers wrote about "the Tarot." After this, the Tarot became a part of occult philosophy.
There are also those who believe that Tarot cards originated in Egypt. In some circles, they are thought to be the sole surviving "book" from the great fire that burned the libraries of ancient Egypt. In this theory, the cards are considered to be the hieroglyphical keys to life.
The Tarot Deck
There are many varieties of Tarot decks, and there is no standard number of cards across all decks. While the types of cards, the suits and their meanings are the same, the illustrations vary greatly. Decks are based on various themes such as nature, animals, fantasy, dragons, etc. The most common deck in the United States is the Rider-Waite deck, which was created in 1909 by A.E. Waite, a prominent member of the occult group the Hermetic Order of the Golden Dawn, and published by Rider & Company. The artist was Pamela Colman Smith. This 78-card deck was the only readily available deck in the United States for many years, which is why it is considered the "definitive" tarot deck in the United States. According to The Hermitage: A Tarot History Site, however, there is no "definitive" tarot deck.
The Tarot deck is made up of the Minor Arcana and the Major Arcana. Like regular playing cards, the Minor Arcana of the Tarot deck includes four suits. Rather than spades, hearts, diamonds and clubs, however, the suits are:
wands
swords
cups
circles or pentacles
Each suit has meaning regarding a specific approach to life. The cards within these suits are numbered one through 10 and also include the court cards -- the king, queen, knight and page. The Minor Arcana cards represent the more minor, practical daily ups and downs in life.
The Major Arcana are not associated with the suits. They include the picture cards that represent principles, concepts and ideals. They are numbered one through 21, with the 22nd card (the "Fool") marked as zero. The Major Arcana cards represent strong, long-term energy or big events in some area of life.
Seeing a Major Arcana card about a particular subject in one reading and then getting a Minor Arcana card about the same subject in the next reading would mean that this subject is becoming less important in your life.
Tarot Card Interpretation & Meaning - (0) The Fool


Introduction: The Fool is always an indicator of newness; as well as the purity and open-hearted energy of a child. This is generally considered a positive card, with the caveat that it's important to take time to be sure that you are "looking where you're going."
General: In general, this card would indicate new beginnings that have some deeper spiritual meaning - for example, starting a meditation practice or a relationship, as opposed to buying a new pair of shoes. The appearance of the fool can depict an important "fresh start."
Work: Other people may not understand or support your new ideas and/or proposals, but if you know that you're right, press ahead, and try to help them to understand where you are coming from. This sometimes will indicate finding a new position - or even that the time could be right for you to "go off on your own" and start your own business.
Love: The appearance of the Fool in the context of love could mean that you aren't ready for a commitment yet, even though others may be pressing you for one. This is a positive harbinger for your love life; lots of fun seems to be in the offing. Just don't let your desire for fun make you overlook "the real thing" (real, true, deep love) should it come your way now.
Finances: In terms of finances, the Fool is an extremely positive significator. You can expect increase, and furthermore, you will find it in yourself to know that no matter what happens financially, that you will be all right and will "come out on top." Trust yourself, work hard, and you will do better than you expect.
Health: It's possible that you'll be slightly accident prone when the Fool is appearing; be "present in the moment" and don't take silly chances. Overall, though, when this card appears your health is very likely to be on the upswing. If you're having health problems, you are very likely to find the people and items you need to make headway toward a full recovery. Positive thought is important and should come fairly easily to you now.
Spirituality: When this card appears, you are likely to have a desire to try out lots of different approaches to spirituality to see how they "fit." Nothing wrong with this exploration, however don't get too carried away in any one thing while you are "just shopping." This card can indicate a powerful need to get deeper knowledge about spirituality, and your friends and family may not understand where this is coming from. Regardless, you have to do what is best for you.
Tarot Card Interpretation & Meaning - (1) The Magician


Introduction: The Magician is about making higher - and better - use of all of one's power. Spiritual, emotional, and otherwise. This is another card that often signifies new beginnings and great expectations. This is a very powerful, positive omen in a reading. This card reminds us that we have the power to make a difference, in our lives and in the greater world, if we simply make a point to try.
General: You may notice many synchronicities, which point towards deep, spiritual events taking place regardless of the "importance" of their superficial appearances. You should be finding that you have the knowledge, strength, and inspiration needed to meet your challenges. In general this is a very positive time for you.
Work: There will be an improvement in your work/career life. This points to an excellent time to find new work or to ask for and receive a promotion in your current job if that is possible. Particularly if your work is in a creative field, this is a time when your suggestions and work will be met with excellent comprehension and may lead you to "bigger and better things."
Love: If you are in the market for a new romance, this is a time when you are likely to meet someone new. If you're in a long-term relationship, the relationship will very likely seem to rise to new, deeper levels of commitment and enjoyment. This is an excellent time to "get out and meet people."
Finances: Money should be on the upswing when this card appears - even if no feasible way for this to happen is apparent at the time you do your reading. Something will appear that will allow you to make more money, whether this is an idea, a chance to do some work "on the side" or even a new position. Have faith in yourself and your ability to succeed.
Health: If you've been feeling ill, that will most likely end soon; this card signifies strength and/or the return of strength. If you do have some kind of ongoing health issue that hasn't gotten better, you may benefit greatly from undertaking some sort of alternative therapy (nutritional counseling, massage, dietary restriction, and so forth.)
Spirituality: This is an excellent time for you to undertake some form of spiritual study that you've thought about in the past but haven't had the opportunity to pursue. You would benefit, also from discussion groups that are spiritual in origin. A spiritual teacher may appear in your life now. This person will be an excellent mentor and will help you to have a "new lease on life."
Tarot Card Interpretation & Meaning - (2) The High Priestess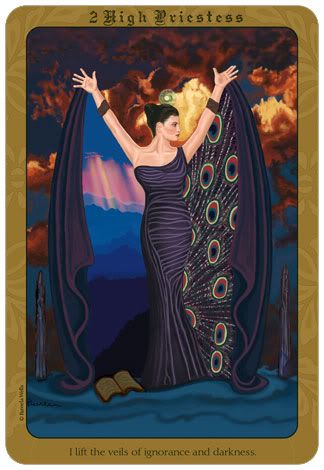 Introduction: The High Priestess is a very spiritual card - often with sexual overtones. It can mean that the querent is in a phase where he or she is going to be much more physically attractive to others. She is tied to the moon, to femininity, and to inspiration.
Hidden Meanings: This is a time to rely on your intuition and your inner knowledge, rather than your conscious mind or intellect. Pay attention to your dreams. Synchronicities are likely now. When the High Priestess appears in a man's reading, she also often represents a woman that he will want badly; but who he may not be
General: This is a time to rely on your intuition and your inner knowledge, rather than your conscious mind or intellect. Pay attention to your dreams. Synchronicities are likely now. When the High Priestess appears in a man's reading, she also often represents a woman that he will want badly; but whom he may not be able to get.
Work: It's possible that a pleasant surprise will be coming your way soon in regard to work. This could even be a new job opportunity. You may come up with some new systems or processes that make your work life simpler and less stressful. Ignore workplace gossip and certainly don't get involved in it.
Love: This can be a magical, mystical time for love. If you date women, you could well be interested in a woman who is distant and unapproachable. Trust your instincts. If you are a woman, you may well find people basically literally throwing themselves at you. Use this power wisely- it's potent!
Finances: Someone may not be being completely honest with you in regard to finances. You may not have all the information that you need. Don't be afraid to dig deep, and to do your own investigating. Be sure, when it comes to financial transactions, that you give out only the information that is needed and no more.
Health: There may be information about your health that has not yet come to light. If you feel that something is amiss with your body, believe in your concerns and advocate for yourself. You may need to see a different health care practitioner. Trust yourself. If a procedure or test that is suggested to you doesn't "feel right," don't feel that you have to go through with it. Be sure that you are supporting yourself as best you can with diet, exercise, and vitamins/minerals.
Spirituality: Messages can come to you from all sorts of places. Make a point to look at spirituality in ways that you have not done before. Talk to people whose experiences and beliefs are different than your own. Move out of your comfort zone. You'll be all the richer for it.

Tarot Card Interpretation & Meaning - (3) The Empress

Introduction: The Empress is an archetype of feminine power; she is watery, hard to fathom, mysterious, fertile, and sexual. She augurs a need for us to be in touch with our feminine side, to listen to our intuition, and to give priority to our emotions an passions. She can signify coming abundance.
General: People are going to be more attracted to you than usual (in every sense) and you are likely to find people on your doorstep, wanting your advice/your shoulder to cry on. This will be beneficial to you because you are now going to be able to see yourself more in the way that others see you - as someone with wisdom, and a lot to offer. So share your hard-won perspectives on life, know that your wisdom and caring is valuable.
Work: Things should be going very well for you. People will be inspired by your ideas, your passions, and your way of doing things. Let your 'inner voice' guide you in how you operate. The empress directs us to follow our bliss, and that the rest will follow.
Love: This is a potent time for love, you may find that men and women alike are suddenly finding you far more attractive (both in terms of friendship and romance,) and you will want to be careful with how you use this power, as it's very potent. If you are single, this is a time when love - true love - could very well come your way. Committed relationships often become sweeter, deeper, and truer under this influence.
Finances: This card shows an excellent time to make investments, follow your instincts about them. Money should be flowing very well. Be sure to "keep the flow going" by putting back out a little of what you have, to a person or cause that is important to you. Share your abundance.
Health: If you're trying to get pregnant; this is an excellent sign that this may be forthcoming. If you're not ready to be a parent and pregnancy is a possibility for you, this is a time when you want to be triply careful. If you're having health issues of any kind, ponder them from a different point of view; what is your body trying to tell you? Consider adding some sort of naturopathic or homeopathic approach to your health regime.
Spirituality: Your intuition may well be trying to send you a message during this time also. It will be important to listen closely to it now and if that requires that you make time alone, even though there are others that need you, then making time alone needs to be a priority. Heed any messages or warnings that seem to come to you now through your "inner voice."

Tarot Card Interpretation & Meaning - (4) The Emperor


Introduction: The Emperor shows us that domination of the mind over the heart is sometimes not wanted, but in some cases is it necessary and even welcomed, and that this is part of what we must think about when he appears. When hard choices must be made it's important to maintain your concentration and focus, and this is something this time period will make it easy for you to do. Enjoy the assertiveness and confidence it that this self-control and focus brings. Forge ahead and do what you know is best. If you can master yourself then you should have little problem mastering the world and all the things in it.
General: It looks as though a kind, older man may be part of your scenario. This could be a work colleague, or your father or a father-type figure. Perhaps he will be interested in you romantically. If so, don't rule him out, just because of his age. You may feel that this man sort of "rules with an iron fist" and that can be frustrating at times, but he is trying to help you to see that rules have their place and their reasons - and you will come out all the better for it. Above all else, this man teaches - without even trying, perhaps - the benefits of structure and logic ruling over the emotions and lesser desires.
Work: Work should be going well and your efforts will not be going unnoticed. Pay particular attention to organization, follow-through, and logic. Your results should be stellar. If you are looking for work, now is a time to be dispassionate, to step outside yourself and think about how others see you from a logical point of view; play up the logical reasons why they should hire you. You are likely to be successful in finding work if you make a logical and sustained effort now.
Love: You may find yourself falling for someone who is older than you now. This person is likely to be attracted to order, logic, and organization. The attraction may not be mutual from the very beginning, but if you are patient and persistent, it is likely to grow.
Finances: This card shows a need for discipline, logic, and order to make your finances work better for you. What we pay attention to in our life grows. Are you treating your money with respect? Do you know how much you have, where it is going, and so forth? Do not focus on lack now, because lack is then what grows. Pay attention to what you have, and be the best steward of it that you can be.
Health: Believe in your right to good health. Be logical about what you are doing to your body. Order and discipline may be helpful. For example, if you are struggling with health issues, write down your symptoms, track them, and then see if anything in your life corresponds with your systems. Consider an "elimination diet" to check for food intolerances.
Spirituality: Be sure to take time out for yourself in order to honor your need for spiritual growth. Do not focus totally on your left-brained aspects (logic, reason, order,) but allow your right brain to have input too. Logic can lead you to the spirit, if you allow this, and if you don't get too stuck in your logical self. Meditation, (which requires great discipline) will come easier for you now if you make the time and effort.
Tarot Card Interpretation & Meaning - (5) The Hierophant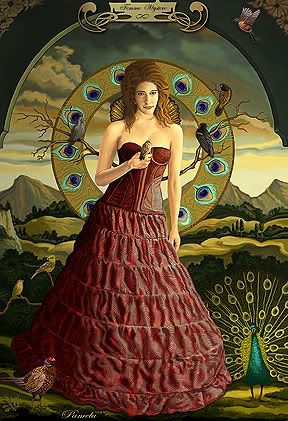 Introduction: The Hierophant is very much about "doing the right thing." You may be struggling with an issue and are unsure about what is "right" for you to do. Know that the answers are within you. Remember that the "right" thing is what is right for you also.
General: This is also a card that is very much about spirituality - everything from traditional religion to earth-centered spirituality and any other spiritual notion that you can conceive of. There may be a tension between your idea of spirituality and the "right thing" and the ideas of others around you. Stand up for your own beliefs. The "rules" and the "system" of doing things are probably playing a major role now. Rituals of any sort will be helpful to you now, even if it's just "a movie with friends every third Saturday."
Work: You may find that a teacher or mentor of some sort that you have been needing appears in your life now…and/or you could be called upon to be that teacher or mentor for someone else. This is a good time to get involved with groups even if you don't think of yourself as a "group person," as you will find that you have much to learn from them (in a very positive way.) Work should be going very well provided you are able to be organized and work within the rules.
Love: Romance also is likely to be going very well, although in a pretty traditional way (i.e. these energies will work best for you if you can conduct yourself in whatever way someone in your shoes is "expected" to be. Now is not the time to "buck the system" or to be unconventional any more than you have to be.
Finances: This is a time to play by the rules and to use down-to-earth, normal, traditional ways to handle your money. Seek the advice of bankers and professional money managers and/or people with more experience dealing with money than you have. This is a good time for investments, provided they are conservative and stable. This is not a good time for taking chances with money or going for "unusual" stocks, bonds, etc.
Health: Ritual of any kind is helpful to you now. If you have health challenges, discipline, order, and commitment - in whatever way that makes sense to you - is the way to go about it. "Traditional" therapeutic means also have a high chance of success now.
Spirituality: You are very much concerned with spirituality now (even if you don't have anything approximating a "traditional" religious belief. Make regular time, even if you don't attend a "traditional" house of worship - to quiet yourself and allow your spirit some time to expand. What matters here is the regularity of it - whether it's daily, weekly; whatever you can make time for. You will see changes in your life and outlook as a result of giving yourself this time.
Tarot Card Interpretation & Meaning - (6) The Lovers
The Lovers

Introduction: The Lovers is associated with the astrological sign of Gemini, "The Twins." It almost always points to partnerships with just one other person; generally, and not surprisingly, this indicates a romantic partnership, but of course this is not always the case. Less frequently, it points to the duality that all of us have inwardly - between male/female, yin/yang, approach/avoidance, and the like.
General: It's possible when this card appears that you are feeling ambivalent about a relationship or situation in your life. It could be that your heart is telling you one thing, and your head, another. In general, the thing to do is (within the bounds of your morality) to follow your heart. Some people say there are only two modes that any of us are operating under at any time; and that's "fear" or "love." When you can: choose love.
Work: You may be facing a choice or decision in relation to work. Analyze all available information, and then make your best choice. It's possible that what you initially interpret as a bad thing will turn out to work in your favor. Be cautious about mixing business with romance; if you chose to go there, make sure you know exactly what the stakes are.
Love: When this card appears, it usually means this time is likely to bring LOVE in capital letters to the center stage of your life. This is either a new relationship, or a powerful re-bonding of an old one. Either way you will be quite happy about how romance is going and others will likely remark that you are "glowing." This is serious stuff. It could mean, even in a new relationship, where you are meeting each other's families and talking about "forever." Again, share your joy with those around you who need it. Life will feel blissful to you now, which is wonderful.
Finances: Things are likely to be going so blissfully for you romantically that it would be easy for you to lose track of where you are with your personal/financial life. Most things can wait, of course, but some things absolutely cannot so just be sure that you don't lose sight of the things you really must do.
Health: If you are facing health challenges, know that the right partner to help you get back to wholeness will come to you. Whether that's a traditional doctor, nurse, or healer depends a great deal on your preferences and choice in life. Again, if you are facing challenges, think deeply about your current understanding about health and wellness, and undertaking any healing affirmations/forgiveness work that you may need to do.
Spirituality: Again, working with a special person, like a mentor or leader that you have faith in can help you along your spiritual journey. However, don't blindly follow; question everything, listen to your heart and your gut reactions; take what is offered that is helpful to you, and disregard the rest. A mentor may be getting ready to come into your life. Remember the old saying: "When the student is ready, the teacher appears."
Tarot Card Interpretation & Meaning - (7) The Chariot
The Chariot

Introduction: The Chariot indicates a lot of energy; but not free-for-all energy; it's directed, controlled, and has a goal in mind. When this card appears you are likely to be fairly clear on what your hopes and dreams involve, and what you are willing to do to get there.
General: In general this card points to determination and ambition, getting things done, and testing and proving what you've got. This is a sign that you should move forward with whatever you have in mind (and in your heart) and give it your best shot. Remember, though, that you'll need to use both your intellect and your heart, in order to be truly successful.
Work: In terms of work, it's important to not let small issues blow out of proportion in your mind. There may be someone who is involved with your work who is (inadvertently or not) working against you. Don't let this get you down, either. Just do the best you can, and don't waste time on worrying about the way others perceive your efforts. If you're right (and you probably are) everyone will see this in the end, anyway. You should be feeling very "charged up and ready to go."
Love: In terms of love, it's possible that you are tempted to go too far too fast and/or that someone is pressuring you that way. Either way, communicate as best you can about your boundaries and preferences, and be honest with yourself about the possibilities. If you aren't interested in a relationship with someone who clearly wants one with you, the kindest thing you can possibly do is to let them know that you just aren't interested. The short term angst this may cause will benefit everyone in the long run.
Finances: Finances in general may be going very well. You could be looking into purchasing something to do with transportation - a car, plane tickets to somewhere you have always wanted to go - anything of that nature. Prioritize paying down your debts. You can do it now, if you are disciplined.
Health: On the whole your vitality is very strong now and you should have quite a lot of "get up and go." This is an excellent time to begin or increase a fitness plan - you may be able to make more progress than you ever thought possible.
Spirituality: You may travel (even locally) to places that can help increase your spiritual awareness, and you will be in a mode where you learn a lot quite quickly about spiritual matters. Don't be afraid to attend seminars and talks on spiritual subjects that seem unfamiliar to you or outside your usual mode of learning. You can benefit in ways that you cannot currently imagine if you do try these new things. This can be a very profound time for you.
Tarot Card Interpretation & Meaning - (8) Strength
Strength

Introduction: Strength indicates the importance of mind over matter, and reminds you to focus on what you do want rather than what you don't want in your life. Its main point is that you have the ability to harness your thoughts and to use them for your - and everyone else's - highest good. Not only do you have the ability; you have the responsibility. So conquer your fears, control your impulses, and never lose patience with yourself or what you are doing.
General: It's important now for you to make time to meditate and contemplate and spend some time alone even if you are in a committed relationship and have nineteen children! Do not allow yourself to spend time in preoccupation and fear. Outward things will be going all right but what is of the most paramount importance is keeping your head on straight.
Work: Work should be going well. If you're looking for work, know that you have the wherewithal and the skillset to find it. If you're already employed, and there is room for upward mobility, don't hesitate to negotiate for what you're worth. You might be surprised at the positive reception that you get. If there's not room for a raise or promotion where you are now, give serious thought to finding something where there is this possibility, or consider what it would take for you to strike out on your own business-wise. You may have more options than you typically think possible.
Love: Love should be going very well - if you're committed, this is very likely to be a strong relationship that is mutually supportive and beneficial. If you're looking for someone, this is a much better-than-average time to meet people. You should be in a self-confident phase, so get out and mingle. You might be very pleasantly surprised by how things work out.
Finances: Money should be in a positive cycle. Be sure to save some, even if it's only a little, and even if you've been doing without for quite some time and feel a desperate need to treat yourself or the people that you care about. You may actually be getting ready to purchase a home or other big-ticket item. Don't borrow more than you can comfortably repay, of course.
Health: Your health and vitality should be strong and robust now. This is a great time to correct bad habits if you need to do so in order to protect your health. Starting with small goals like a daily ten-minute walk could very well lead you to where you want to be, which is even healthier and stronger than you're feeling right now. Yes, it can get better!
Spirituality: This is likely to be a very spiritual time for you even if you don't have anything close to a religious belief. To be truly strong, you must pay attention to and develop each leg of the triad we are made from: body, mind, and spirit. Be sure you are spending time on all three. That's hardest to do when things are difficult; if you receive this card when you are at a low point, know that things are very likely to be looking up soon. This card is a reminder that you are strong - probably stronger than you think.
Tarot Card Interpretation & Meaning - (9) The Hermit
The Hermit

Introduction: The Hermit is an extremely spiritual card, and often has to do with institutions and large organizations - everything from a bank to the entire Christian Church. This card indicates spirituality even if you are an atheist. It's in whatever sense the word "spirit" makes sense to you, even if for you "spirit" equates to "emotion." You may be trying hard to figure out what the "truth" is about someone (or some matter), don't feel that you have to do it all on your own, ask for help if you need it to gain different perspectives, more information, etc.
General: Just like with the Strength card, you may even more so be in the frame of mind that you need some time alone - don't be afraid to take it. Even if it's just a five minute walk around the house so that you can clear your head. This is also very much a card about "trying very hard to do the right thing." Just make sure that "doing the right thing" includes doing what is right for you personally, and not just worrying about the wants and needs of others.
Work: You are nearing the point where work success and recognition are well within your grasp. Do your best to be organized and productive. This will pay off for you in ways that aren't clear yet. Do the "right thing" even if nobody is watching. You are always watching what you are doing.
Love: It's possible that a romance from your past will be re-kindled. Is that really what you want? It seems that romantic relationships are not currently a priority for you right now. If your head says that you want nothing more than a romantic relationship; look at your behavior. Does it align with that analysis? In a committed relationship, you might have been moving in different directions for a while now. Make sure to make the time and effort to stay connected in order to keep the spark alive.
Finances: This is a time to be conservative when it comes to financial transactions and decisions, not that money seems to be your highest priority when the Hermit appears anyway. If you're investing, put your money in conservative stocks/bonds/money market with really good track records. This is not a time to gamble.
Health: Ritual of any sort will be helpful to you health-wise. (This could even be something like reading a book for an hour every Saturday afternoon). Any health problems could be drawing your attention to a problem that is not in your body so much as in your life; for example, a bad back could indicate that you are "carrying too much" metaphorically speaking. Take care of yourself.
Spirituality: It's very likely that at this time a person will come into your life who is like a mentor or teacher even if they don't "teach" you directly. You will still learn from them on several levels. Honor the need that you may have to withdraw to a degree from ordinary life - It won't last forever. You will soon be feeling much more social, so don't push yourself now to be around a lot of people unless it is absolutely necessary. You will likely emerge from this month feeling refreshed and renewed, particularly on a spiritual level.
Tarot Card Interpretation & Meaning - (10) The Wheel Of Fortune
The Wheel Of Fortune


Introduction: The Wheel of Fortune tells you that in general, it looks as though things are changing. In most cases, this indicates positive, needed changes but for some people, change itself is very difficult and can almost be traumatic. This is a very spiritual and "Karmically" oriented time. Change is part of the cyclical nature of life.
General: This card always reminds us that "this too shall pass." Whether that's good times or bad times, it passes. If suddenly you find yourself "sitting on top of the world," keep your perspective, as that too, like everything else, changes. Live in the now, count your blessings, and just realize that much of life is outside of your control, but that even that is okay. Roll with any changes, and think positively.
Work: It's very possible that you will decide to leave your job if you are currently working, even if it's a good job, because your heart is no longer in it. You are being called to follow your dream, no matter what it is. If you have a desire to do something different, but don't know anybody who does what you want to do - be bold, and call up someone who does what you dream of doing, and ask them if you can have lunch with them or shadow them for four hours. You'd be surprised how often such a request is met in the affirmative.
Love: It's possible that a relationship needs to be re-negotiated or is possibly no longer going to suit your needs. This does not mean that, if you are in a committed relationship, that it is doomed, but only that you will need to take action to make sure that it makes it. Talk about how you are feeling, that's your best hope. If you're looking for a relationship, first get very, very clear on exactly "who" you are looking for, then get out and mingle - whether that's online or by allowing friends to introduce you to someone that might "fit the bill."
Finances: In the financial sense the Wheel of Fortune is generally a good omen for anyone who has been having a rough time for a while financially. It means that your circumstances are very likely to change, markedly, for the better. However, if you have had a long prosperous period, consider the opposite possibility, that your income may drop a little. If that's the case, be sure you are prepared for the proverbial "rainy day." In the long run, of course, it all evens out.
Health: Resisting change can be bad for your health. Do whatever it takes to keep your stress level under control. When in doubt, go back to the basics; proper nutrition, proper rest and proper exercise go a long way toward helping. Meditation and Yoga may help keep you in top-shape also.
Spirituality: It's important to be aware that in nearly all instances, we do make a contribution in some way to what is happening in our lives. It is rare for things to "just happen" or for us to be a truly blameless "victim" in a situation. Accept whatever your fair share of responsibility is for the situation you are currently facing, be accountable to yourself if to no one else, and move on. Sometimes things do "just happen," if that is the case - rest assured you are by no means alone in that experience, and reach out for support. The support you need is truly always available.

Tarot Card Interpretation & Meaning - (11) Justice
Justice


Introduction: Justice deals with the idea of karma and the law of cause and effect, stating that all events, and all people, are connected. It's important to remember that not everything you are dealing with, however, is a direct result of your own actions or karma. Sometimes you will be called upon to deal with the results of the actions of someone you care about, and this can sometimes be as difficult and demanding as it is when you're up against something that is completely of your own making. Don't blame yourself unnecessarily.
General: This card evokes the need for fairness, balance, and harmony. Operate in as balanced and reasonable a fashion as you can. This includes in how you think about and treat yourself. If you are directly involved with a court case, it is likely to be resolved, at least in large degree, in your favor.
Work: You need to be sure that your work/life balance is where it needs to be. Too much emphasis on either throws the other into balance. For most people, one or the other comes more easily to us; be sure that regardless of which field (personal life or work) you feel most comfortable in, that you are giving the other part of life as much attention and energy. Balance is necessary in order to thrive.
Love: If you are questioning whether you and your long-term partner are likely to stay together, often when this card appears, the answer is that you are likely to choose to go your separate ways. On the other hand, if you are single, this is a time when commitment may be coming your way very shortly. Stay clear about what you most want from relationships, and you are likely to "find it" that much sooner.
Finances: This is a good time for games of chance. Very often, when this card appears in the context of money, it can mean that a (usually fairly small) "windfall" is coming your way. Even if you don't gamble in any way, money that you weren't expecting can show up now. That's always a good thing. Use it wisely.
Health: It's important to "stay in the moment" and, once again, to pay attention to how you are (or are not) keeping a sense of balance in your life. Moderation is not just for monks, it's an important part of living a sensible and healthy life. Consider how you might be "out of balance" - particularly if you have a health challenge now and remedy the situation. You have the power to do so.
Spirituality: This is a time to work on being grounded. Do you feel as though you are connected to the earth and your fellow man? Can you be "in the world" but not "of the world?" Balance again is the theme here. Working on keeping the proper perspective about life will help you to stay centered.
Tarot Card Interpretation & Meaning - (12) The Hanged Man
The Hanged Man

Introduction: The Hanged Man generally shows that you are at a crossroads - one with only two options i.e. in or out, up or down, yes or no. You may find yourself very much wanting to do "something" but having no idea what it is or how to do it. If that happens, that's a clear sign that you should stop, relax, and look at ways that you might need to let go of attempts to control life/situations/people/things.
General: It's possible that there is an outdated attitude or wish that you need to let go of. Any sacrifice that you make will open up your life to something even more positive than what you "let go of." All in all this should be a thoughtful, reflective time, particularly if you are willing to look at it or how you might best serve your own interests by being willing to change.
Work: Nothing much may seem to be happening, and you may well be sick of it. This is a great time to figure out if there is anything that you personally can do about it, if this is the case, and if there is not an action that you can take, then try not to take the slowness of the wheels of change personally. Things will change. It just may not happen on your timetable. Relax, or else look for different work.
Love: Again, the theme can be one of letting go. "Letting go" of an unattainable lover, for example, will bring about the possibility that someone that you can be with will "be there" for you. But that is only one example. You may need to "let go" of a vision of a particular kind of relationship as being "the only way that you can be happy." If you're in a long-term relationship, it too may well be at a crossroads. If you think the relationship is fabulous, be sure and find out "where your partner is" with the state of affairs.
Finances: If things are tight, this is an important time to "open up the flow" of prosperity by giving away some of what you have, even if all you have is a piece of bread. If that's the case, know that there is someone nearby who would probably give their right arm to share that piece of bread with you. Find them, and share it. Something as simple as this may start the wheels turning to bring your "prosperity" into better times.
Health: You may change your mind radically about something that you think is wrong with you physically. This is not a siren song to just ignore everything your doctor has told you, but give it some deep thought, do some research. It's possible that something you thought you understood could best be treated in another way. Your health improves, but it's a process.
Spirituality: It's crucial now to let go of any negative, self-limiting beliefs. Remember the idea of the "self-fulfilling prophesy" and be very careful about what you allow yourself to say or think about our life. Make sure the "prophecies" you are making about your life bear some resemblance to the life you really wish to see
Tarot Card Interpretation & Meaning - (13) Death
Death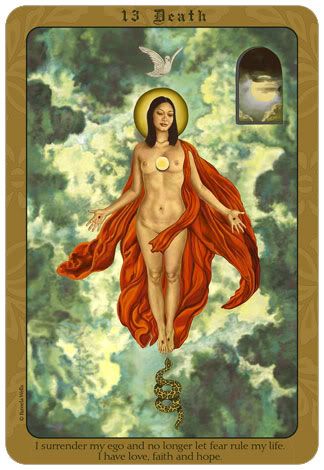 Introduction: Death does not indicate physical death. In fact, in general, it is considered irresponsible for readers to predict physical death, as we are creatures with free will, and such things are not written in stone. This card simply indicates transformation and change. This is definitely a time of deep transformation, likely to be both inner and outwardly in your life. Situations, things, and people that you have counted on or gotten used to may no longer be available to you in quite the same way as they once were, and this transition can be difficult for some people.
General: The more accepting you can be of change of all sorts during this time, and the less you try to "control" the better and the more comfortable this time will be for you. Often what you need to "let go of" is some sort of self-limiting belief or attitude. Sometimes we just can't see how our attitudes are hurting us, and when that is true, this time period can be a wake-up call. The energy of this time is not just change or destruction; it is change or destruction followed by renewal. Even though one door may have closed, another is opening. Will you have the courage to step through?
Work: If you hate your job, or are "underemployed," but you've not wanted to leave because of the steady income, you could end up being forced out. Ultimately, this would lead to your "greater good," but wouldn't you rather leave on your own volition? You may benefit most from a complete change of field. Make the leap. You can do it.
Love: If you are clinging to a relationship that you are deeply unhappy in because you don't want to let go of the familiar, or because you hate to be alone, you are doing neither yourself nor your partner any favors. Have a frank and honest discussion about the problem(s) you have with the relationship, and if they can't or won't make a change or you can't or won't, then perhaps it's time to let it go. If you can be brave and take the chance of leaving the security of this relationship, you can find one that works much better. But first, you have to face the problem, and try to fix it. Not all relationships are fixable. Don't beat your head against a wall for very long. You'll know when it's "long enough."
Finances: You may have to make some sacrifices to deal with coming financial challenges. You can do it. Don't hesitate to reach out for help if you need it. You don't have to struggle or suffer alone, nor should it come to that, although there is a possibility that you'll be dealing with an involuntary loss of income as your job may be cut back, your stocks may lose money etc. Don't avoid reality, if this comes about. Figure out exactly what you are dealing with, face the situation, then do what you must to get through it. Ultimately you will profit greatly from what you have learned. You'll be fine in the long run.
Health: Keeping your stress level manageable is a must in order to stay in good health now. Deal with any problems that come up physically, don't try to avoid them. Be sure to get enough rest, as best you can, and don't abuse your body with alcohol or in other ways. If you need healing, ask for it on both the literal and the spiritual planes. Especially if you are single, now, seek out being touched physically; massage, and hugs from dear friends, etc., will go a long way toward keeping you healthy and sane.
Spirituality: Cultivate a positive attitude. Know that even if you are in the midst of a "dark night of the soul" that this too shall pass. Don't fight change. Allow yourself to feel what you feel, but don't wallow in pain or sorrow; if you need help pulling yourself away from any pain or loss that you are suffering, reach out. There is always a caring soul who will help you, even if you are quite literally alone in the world; more people care about you than you can even begin to imagine.
Tarot Card Interpretation & Meaning - (14) Temperance
Temperance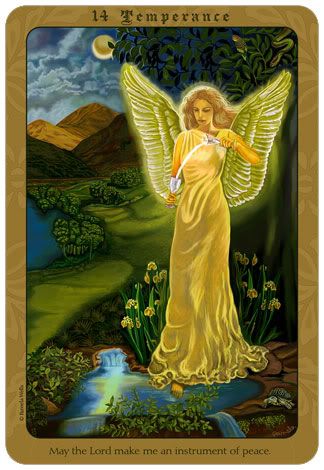 Introduction: Temperance is a card about balance, in many ways, and relationships of all kinds. Friendships, family, romantic partnerships, and work partnerships all need your attention. This is also a card about alchemy or mixing and matching. You may have to try several approaches to things before you find what is truly right for you.
General: Although in general all your relationships are likely to be going quite well, you may need to look at your deeper personal issues and see if or how these are standing in your way. And if they are, how to work through them and integrate them. The idea now is to do what it takes to find balance, in yourself, in your relationships, and with your goals and aspirations.
Work: Aim high, but don't have expectations of yourself or others that you or they can't possibly meet. Do your work with patience and with stamina and it will pay off for you in the long run. Your accomplishments will not be overlooked.
Love: Often, before you can really have peace and wisdom in you relationships, you need to have peace with yourself. Look at what you feel guilty about, mistakes that you feel you've made in your past. Then forgive yourself, and let them go.
Finances: There is likely to be a good balance between what is going out and what is coming in. However, if you need to increase or collect your earnings, you are going to have to ask for what you deserve. Have courage and pride, and you will not fail.
Health: Balance and moderation is the key. Are you eating well, sleeping well, playing and working enough, getting enough exercise? Look at where you might be out of balance and then remedy this. Moderation is definitely the way to good health right now.
Spirituality: This is an important time to meditate and to listen to your inner voice for guidance, and if you need help, to ask for it. Both from your higher self and from others.
Tarot Card Interpretation & Meaning - (15) The Devil
The Devil



Introduction: The Devil is not as frightening a card to interpret as the depiction on most cards indicates. It is a card about bondage but often this bondage is metaphoric and internal. With this card you are called to look beyond superficial appearances and to go deeper into the truth and meaning of a situation. You also are asked to remember that when you're feeling restrained you nearly always hold the keys to your own freedom. Don't give up hope!
General: It's important for you to remember that no matter what your situation, which you always have options to choose from. First things first, don't let other people tell you that your options are limited. If you come to that conclusion, be sure that you are coming to it on your own. Regardless, it will be crucial to remember that you can free yourself from whatever restrictions are holding you back, at any time you choose to do so. You may have the feeling now that you are not in control of your life; sometimes this happens as a result of your own actions, but more often as a byproduct of inaction. So, take action, take whatever steps you can to give yourself the feeling, however slight, of being in control. Even if that is merely making a choice on what you are going to have for dinner. Small steps are important, too.
Work: You may very well feel trapped in a job that you detest but can't see your way clear to leave because of the security. Consider whether or not the trade-offs are worth it; the truth of the matter is that in this day and age, very few jobs, pensions, etc. and so forth are truly secure. If you choose to stay where you are; be aware that this is a choice that you are making; nothing has been foisted upon you. If you don't feel the trade-off is worth your unhappiness, start putting out feelers and giving thought to what you can do to change the situation. You are not trapped unless you allow yourself to be trapped.
Love: If you're in a long-term romantic relationship, one or both parties may have gotten to the point where they feel as though they are trapped in the situation. If you're getting signals that this is the case, try to talk about it, if you want to save the relationship. This card also sometimes appears when there is really nothing to be done but to end an unhappy relationship. We always have choices. Take steps to keep the magic alive. If you're seeking love, this may be a signal that you're reaching the point of desperation, an attitude which definitely drives off would-be lovers. If that's the case, consider taking a short time out from relationship-seeking and get to know yourself better. Return to your search when it's feeling less urgent.
Finances: Things may be or may get very tight in the near future. Try not to resent the situation, but to deal calmly and rationally with it. Take one step at a time. If you need financial help, don't be afraid or too proud to ask for it. Help is always available. If you're feeling flush right now, this is still a time that calls for financial restraint. Save for the proverbial rainy day!
Health: This is a time that you need to watch out for being overworked, overtired, and over-stressed. Exercise will help, as will anything that helps you focus on the problems faced by others rather than on your own problems. If you are dealing with a chronic health condition, don't let it define you; you are more than your diseases and you are better served by using any health challenges as an impetus for growth.
Spirituality: Keeping a positive mindset is of the utmost importance right now. Positive affirmations are important and will benefit you. Take a look at who you surround yourself with. Are there upbeat, positive people in your midst, or are you surrounded by overly critical, fault-finding people who nitpick you to the point where you're depressed? Take stock, and then take action. Life is short, and attitudes are catching.
Tarot Card Interpretation & Meaning - (16) The Tower
The Tower


Introduction: The Tower is a card about change. Just as with the Devil and Death, the Tower is not as frightening or as ominous as the pictorial representation in most decks. Trying to hold too tightly to the status quo can be disastrous now. Roll with the changes.
General: It is likely that some people/situations that you have counted on as being there for you may no longer be there in quite the same way. This doesn't have to be dire; change is the nature of life, and trying to prevent it is like trying to row upstream without a paddle. If you have been building castles in the air this may be the time that some of them come crashing down to earth. That's only a problem if you let it be. You will be able to replace them with some more realistic and reachable dreams and goals if some fantasies fall apart this month. Dreaming is important, but it's also important to be living in reality too. You will get through this time just fine; particularly if you remember that you have all the resources you need, already inside you, to deal with life and to do what you need to do.
Work: The energy of this time lends itself toward arguments; try to keep your temper under control, and not take everything that others say to heart too much. Sudden reversals can happen now. This is not an indicator that you need to panic. It is, however, an indicator that forewarned is forearmed. Even if you think that you have the most stable job or sources of income in the world, what would you do if it dried up tomorrow? Where might you go immediately for work if you needed to? Thinking things through now, when you are not in a crisis may pay big dividends for you on down the road. If you hate your job, give serious thought to making a change. You deserve to be happy.
Love: This can be (but is not necessarily) an indicator of a relationship that is about to end. If you are in a relationship that you absolutely, positively, don't want to see end, this is an important time for damage control and for clear communications. Find out how your partner is feeling/doing. Don't make assumptions. Find out for sure.
Finances: This is not a time for risky investments, gambling, or counting on the lottery to make things work out for you. Even if you know the news will not be easy to stomach, find out exactly what you are dealing with financially. It may not be as bad as you think. It is certain, however, that you aren't making anything any better by avoiding the issues. Deal with any problems in a straightforward manner.
Health: Paying attention to what you are doing is critical now. Be careful. Your nerves may be frayed, do whatever you need to do to calm down and stay steady. Exercise can help with this. If you know what you're doing (and know about your allergies, and your doctor approves) consider trying relaxing herbs. Careful with drugs and alcohol now, if you use any.
Spirituality: This is a time again to keep a positive attitude as much as possible. New understandings and insights may come to you in the blink of an eye.
Tarot Card Interpretation & Meaning - (17) The Star
The Star



Introduction: When the Star appears, you are likely to find yourself feeling rather inspired. You will be feeling more hopeful about the future, and more confident that your needs - whether these are emotional or financial needs or both - will be met. This is also a very spiritual card. You may find yourself for a time feeling at one with all of creation. Savor it.
General: This card is a definite good omen. You are probably already inclined to be thinking positively; this is a time to do so specifically. What are the changes that you would like to make or see in your life? Make a list. You can accomplish nearly anything that you set out to do now. Think big.
Work: Work should be going very well now. If you're not happy in your current position, this is a time when you can expect new opportunities to come flying into your life if you are open to them. Be ready for them. Dust off your resume, read tips and tactics about making positive career changes, and when opportunity knocks, be prepared to answer.
Love: This is an excellent time to meet someone new if you are in the market for a new relationship. If you're ready for love, get out and mingle. A new relationship could happen at any time. If you're already committed, your relationship may move to new, higher, more fulfilling levels.
Finances: Again, this is a very powerful positive omen. You will do better financially than you imagined. This is a great time to take risks (only those you can afford,) to ask for more money at your job, and to sell things. You'll have everything that you need, more than likely, and then some. Enjoy it.
Health: This should be a fabulous time, health wise. If you are waiting on test results of some kind, they are likely to be very good results. You'll be calm, and inspired. Take good care of yourself.
Spirituality: You are so in touch with your spirituality now that this is a great time for you to reach out to others, and to share your wisdom and your joy. Your efforts in doing so will be repaid many times over. The world needs your light and your happiness. Make a point to let it shine.
Tarot Card Interpretation & Meaning - (18) The Moon
The Moon


Introduction: The Moon indicates that things may seem somewhat confusing to you now. You may find it hard to understand where you are coming from, much less what others are thinking and feeling! You need to try to sit with the uncertainty, don't try to force things or people to do things before they are ready. This card is the "Pisces" of the tarot deck.
General: You are definitely in a more psychic and intuitive phase than usual, so it will be important for you to trust your instincts and your impressions, even if you don't know where they are coming from. Also, not that you need to be mistrusting, but it will be helpful for you to realize that when this card appears, it's possible that all is not what it seems. If you feel you can't trust someone, then you probably can't. Go with your gut. If you are waiting on an answer from someone, it may, unfortunately, take longer than you would like for it to. Try to stay patient.
Work: Things unfortunately may not seem clear in the slightest. Ask questions and practice active listening to make sure that you and your co-workers understand each other perfectly. Again, patience is called for. Stay calm, and particularly if you are feeling attacked, give your co-workers and supervisors the benefit of any doubt. Reality may not be anywhere close to as bad as you think.
Love: This card points to a highly emotional time in love relationships. Things can quickly become heated and/or uncomfortable. Take a break if you need to. Don't make assumptions, and fight fairly, if you're going to fight. Pick your battles and be sure to treat your lover like a friend. Don't be in a hurry to end or to begin a relationship. This is probably not the best time for either course of action.
Finances: If you're waiting on financial decisions that need to be made by others, the appearance of this card can imply that you'll need to wait longer. This is not a time to make business decisions based on anything other than absolute concrete fact.
Health: Definitely follow your intuition as to your health issues. If a diagnosis (whether that's positive or negative) doesn't feel right, or you don't feel comfortable with your health care provider get a second opinion or a new provider. For those that use alcohol or drugs, this is a time when it is definitely easy to overdo it. Indulge if you must but in moderation.
Spirituality: This is a very spiritual time and a great time to get a reading, healing work, or other helpful input from spiritual types. You are more psychically open than usual now; pay attention to your thoughts and feelings, and to flashes of information that come seemingly out of nowhere. This is also a great time to access the great spiritual books of the world - you'll get more out of them than usual.
Tarot Card Interpretation & Meaning - (19) The Sun
The Sun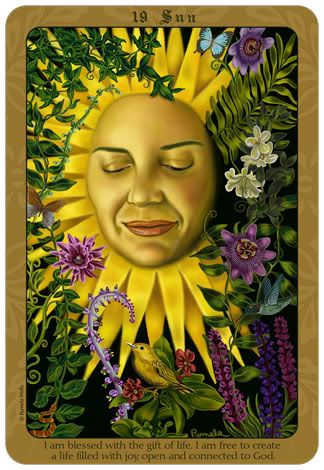 Introduction: When the Sun card shows for you, it's a sign that soon you are likely to find yourself feeling freer than you have in a while - maybe years. This is a great time to take a vacation and to experience different things. The Sun is about vitality, freedom, joy, and self-expression.
General: Things in general are very likely to be going very well for you. However, even though finances are likely to be in good shape when this card appears, that does not mean that you should lose focus on what is truly important in life, and money is not very high on that list. This is a good time to socialize, to meet new people, and to get out and about.
Work: If you're looking for a new job, this card can signify that it's right around the corner for you. It's important, no matter what happens, to keep your ego under control and to share any credit for good work with those who work with you even if you did all or nearly all of the work! On the whole, your work is stable and moving toward new opportunities and improvements.
Love: This is a time, if you are in a committed relationship, when both you and your beloved may be in more than usual need of space. This is not a time to be whiny, clingy, or needy. If you're looking for love - it definitely could be on the horizon for you.
Finances: Money is likely to be much better than usual. Still, hold on to some for unexpected expenses. If you've been waiting on a decision to be made by others it means you won't have to wait much longer and that the decision is very likely to be in your favor.
Health: Your health and feelings of well-being should be at a high point. This is a great time to take some time off if you can and just enjoy life. This is partly mental as well as physical - if you look back you are likely to find that your attitude has been more positive of late too. This can directly affect how well your body works for you. Figure out what you've been doing right and build upon it!
Spirituality: This is a time when you are very likely to be able to see the truth with a capital "T" about life; which is that there is a great deal of beauty, joy and happiness to be found in this life, if you are looking hard enough and in the right places. Spread this very important message. This is a great time to try different spiritual approaches on for size to see if any of them work for you.
Tarot Card Interpretation & Meaning - (20) Judgment
Judgment

Introduction: Judgment can be a card about jumping to conclusions, decisions and judgments; which are too hastily made. If you are prone to such things, this is a clear signal to slow down and give things more thought and to give people "more chances." This can be a real time of spiritual awakening.
General: In general, if you are the one tending to jump to conclusions, you can put a stop to it. If others are making these kinds of decisions about you or about someone you care for, there is really very little you can do, apart from realizing that it's their problem, not yours.
Work: Your efforts are being watched. This is an important time to put in extra effort paying attention to detail. The news ultimately is likely to be good. If you've been trying hard and doing your best, your efforts are very likely to pay off. If you've been slacking off, now is the time to get with the program, before any permanent damage is done to your career.
Love: If you're already in a relationship, this can be a make-or-break period. This is a time to get very, very clear about what you want out of life and out of your relationships, and then take steps to make it come about. If you are seeking love a new relationship may come about in the near future, but you may need to take steps to make sure that you aren't leaping to conclusions (positive or negative) about your new love and/or vice versa. Slow and steady wins the race.
Finances: Money and contracts will be headed your way now. Things should be on a very important, positive upswing. Don't speed or violate the law now, or you could end up paying a hefty ticket/insurance rates. Caution will pay off.
Health: This is an important time to let go of the past and any wrongs that you perceive were done to you, particularly if you are dealing with chronic medical issues. Letting go of your need to be right will go a long way toward helping you to feel better. Besides, if someone did you wrong, then they did wrong, and you don't have to stay angry at them to prove that they were wrong. Think positively.
Spirituality: You may find yourself exploring ideas and spiritual directions that you never thought would appeal to you in the slightest. Furthermore, you may find more truth and wisdom there than you ever dreamed. Be open to new ideas and new experiences. They can benefit you in ways that you can't imagine. And you'll never know unless you try.

Tarot Card Interpretation & Meaning - (21) The World
The World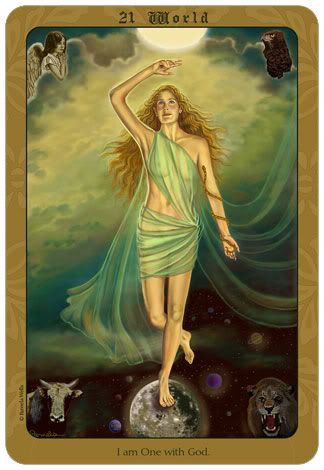 Introduction: The World can signify that you are figuratively feeling the weight of the world on your shoulders, which is not an easy place to be. It's an excellent time to review how well you do at "asking for help" when you need it. Remember you don't have to do everything on your own.
General: This can often be a card of completion. You've worked hard, and you are almost to the "finish line" in some way. Don't quit now that you're almost finished! You're almost definitely in need of some well-deserved rest and relaxation; don't be afraid to take it. You are getting closer to "who you really are," at your deepest levels.
Work: In terms of work, there's a very good chance that you are working far too hard for far too little recognition and money. It's important if this is the case to "blow your own horn" a little, to make sure that the powers that be don't "accidentally" overlook your many positive accomplishments. You may need to look outside your own country for helpful information in how the work you do is done elsewhere - this could lead to some very interesting realizations.
Love: If you travel during this time period, and if you are "in the market" for a relationship, you may well meet someone while you are away. Conversely, if you have been in a long-term committed relationship for some time, you are likely to find it rising to "new and better heights." Things in the love department should be quite interesting, in a good way. Don't be afraid to mingle or talk to strangers.
Finances: If money has been a bit stagnant for you - this is a good sign that this "blockage" will soon break and you'll find yourself "flush" once again. Don't go mad with spending, when it breaks, though. This is an important time to begin saving and protecting yourself so that if hard times come again, that you'll be more prepared. But for now, you should be able to rest easier about money.
Health: Your health should be on the upswing. You may be helped by finding a healer who works with something besides traditional Western Medicine. This is not to replace medical therapy, but to work in concert with it. Your doctor may not be happy about this, if he tells you, for example, that it's not possible for you to study yoga and that it would "get in the way" of his treatment of your arthritis, in that case, you may be best served by locating a different medical doctor as well. Follow your "instincts" about what is best for your health. Seek out mentors with more information than you have. Educate as much as you can. Advocate for yourself.
Spirituality: You are likely to have several clear flashes of important spiritual insights during this time. Keep a notebook handy and record these. Share and discuss them with others (even if your only outlet for that is online). We are all on a spiritual journey, and your insights are likely to be valuable for others as well.
Tarot Layouts or Spreads
Tarot readings involve "layouts" or "spreads," namely the placement of Tarot cards on a table in a pattern. In most readings, the position of each card within the layout's pattern has meaning.
The most common layout is the Celtic Cross (covered below), a 10-card spread. In addition to structured layouts like the Celtic Cross, layouts can also be invented by a reader. If a reader concentrates on the layout used while shuffling the deck and selecting cards, the layout should work whether it comes from tradition or invention. However, some claim that the number of people using and meditating on common layouts like the Celtic Cross give those particular layouts more power than layouts used less often.
There are many recommendations from various sources on how to perform good layouts. Some claim that readings should always be done on a wooden table because wood reflects vibrational energy well. A quiet room is preferred to a noisy locale, meditation is recommended prior to each reading, and cards should be kept in a bag or wooden box with citrine and other crystals to keep their energy clean, and so on. While each reader should try techniques and evaluate how well they work, Tarot can be read almost anywhere, with remarkably good results. In my experience, the most important skill for a good reading is the concentration of the reader.
The "reader" is the person performing the reading, while the "seeker" or "querent" is the person receiving the reading. A "reading" is both the layout of cards and interpretation of their meanings with any insight or intuition added as an additional layer to those meanings. As the deck is shuffled, a good reader will concentrate on the question the querent has posed. For privacy, if a querent doesn't want to verbalize the question, the reader can simply concentrate on answering the querent's question while the querent concentrates on the question. Sometimes the cards don't answer the question posed, but rather show something the querent needs to know, perhaps what the "spirit guides" feel its best. For general readings (readings without a question in particular), the reader simply concentrates on the best reading for the seeker, what the querent needs to know at the time of the reading.
Shuffling Method
The most important thing to remember while shuffling is to concentrate only on the seeker's question, or on giving the seeker a reading that he or she needs & wants.
Different sources recommend different methods, for example some advice letting the seeker shuffle the deck, or to turn some cards upside down while shuffling. I never have the seeker do the actual shuffling, although I've found that the seeker always does a good job of choosing the correct pile in a cut deck. I also don't deliberately turn cards upside down while shuffling, as the cards offer enough meanings to get their message across without it.
1.) Concentrating only on the seeker and his/her question, shuffle the deck while trying to follow your intuition on how to shuffle. For example, if you feel you should only drop a few cards on one side of the deck, then put the remainder on the other side before continuing the shuffle, do that. If you feel that a few cards should be pulled out and re-positioned, follow that intuition. Shuffling correctly using intuition is one of the most important techniques of giving a good reading. In fact, if the reader concentrates and uses intuition well during the shuffle, usually the standard card meanings combined with their positions will work well without much added intuition or psychic insight during the cards' interpretations.
2.) Decide whether the seeker should cut the cards, or if you want to cut the cards. If you allow the seeker to cut the cards, explain that he or she should cut the deck into 3 piles, breaking the deck where it "feels right" for them. I usually avoid the term "intuition" when giving instructions to seekers, as some seekers might not understand the term, or may have come to the reading in an emotional state where using intuition seems like an intimidating responsibility. The term "feels right" makes the task seem easy, as it should be.
3.) If you decide to cut the deck as a reader, cut it into three piles, again dividing it in places that seem like the right spots to break the deck for this particular seeker. I usually prefer to break the deck myself, but rely on my intuition to make that decision.
4.) Ask the seeker to choose which of the 3 piles feels right to him or her, to start the reading. You as the reader can also choose which pile, if desired. Trust your intuition on what to do for the best result. If you allow the seeker to choose, but have a strong feeling that the seeker chose the wrong pile; set the pile you would have picked aside. Later, if the reader doesn't seem satisfied with the reading, take the pile you would have chosen and say "maybe this pile would have been better", and do the layout again using the pile you wanted. After you've done a number of readings for different seekers, you'll develop a preference for who cuts and who chooses during your readings.
5.) Starting from the top of the chosen pile, lay the cards out in order of the layout used (see below for some basic Layouts). Some readers prefer to lay the cards out face-down, then turn them over one at a time during the reading. I prefer to deal them face-up always. When finished with the layout, set the pile of remaining cards to the side of the layout.
6.) You're ready to start the reading!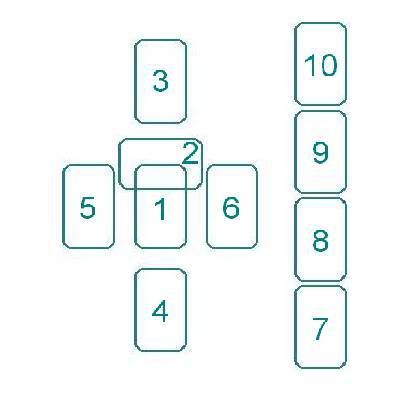 The Celtic Cross Layout
Some claim the Celtic Cross is the most powerful spread used in Tarot, because it's the one used most often, and its frequent use generates some sort of collective energy around it. Some readers don't vary from the Celtic Cross, thinking that other spreads won't produce a reading quite as accurate. My experience is that many other layouts work well, each serving its own purpose.
Celtic Cross, version 1 The Celtic Cross has a few different variations, most centered around how the cards are dealt around the first card. All variations work well, as long as the reader remembers which variation was used and what the card positions mean. In the diagram to the right, the card over the central cross is the third card, and so on. The second card is also laid over the top of the first card, instead of the middle or bottom. The Celtic Cross is best suited for answering questions, as the final card, #10, is the outcome. However it can also be used for general readings, showing the general direction of the seeker's life, or trusting the divination to find an important issue that the seeker will understand.
Like the Celtic Cross' card order, card position meanings also vary. For the variation shown here, card meanings are often as follows:
1.) The first card laid on the table represents the seeker, the starting point, or the immediate circumstances of the seeker. Sometimes this card is deliberately pulled from the deck by the reader or seeker, called the Significator card. The reader may chat with the seeker about a few of his or her personal traits, and then choose a card which seems the closest to the seeker's personality. Or the reader could pull out a few cards which may represent the seeker, such as the four queens for a woman or the four knights for a younger man, and ask the seeker to choose the first card. (The cards could be face up or face down during this process.)
2.) The second card is laid over the first card because it represents the immediate influences over the seeker (or whatever the first card represents). It could also mean obstacles the seeker must overcome.
3.) This card is placed above the central cross in the reading, because it represents that which the seeker is reaching for. It could represent the goals of the seeker, or what is best for the seeker.
4.) This card is placed below the central cross because it represents the roots or foundation of the seeker. It could be the influence of past events on the present, or something the seeker already has available to use.
5.) This is placed to the left of the central cross because it is behind the seeker. It represents the past and its effects on the current situation or question. NOTE: Some sources recommend that if the main face on the first card is looking to the left or right, the fifth card should be placed on the side that the face is looking away from. This is to represent something behind the seeker. Other sources simply place the 5th card on the left, using a left-to-right motion to indicate direction as seen in Western languages.
6.) What lies ahead of the seeker, or something in the future. Again, some sources say that if the first card's face is looking in a certain direction, the 6th card should be on the side that the face is pointed toward. This is to indicate something that the seeker is moving toward.
7.) This represents the seeker's inner attitude and disposition, and perhaps his or her relation to the issue at hand.
8.) This could represent the seeker's influence on others and position in life; it could also be immediate influences over the seeker, such as people, events, surroundings, and the general environment of the seeker.
9.) This could represent the hopes and fears of the seeker, or outside influences and the seeker's outer image.
10.) This is the outcome card.
The European Layout



European Layout It's a good introduction to the seeker. As shown here, 9 cards are laid in a row, in groups of three. The first group (cards 1-3) represent the seeker's past, the 2nd group the present, and the 3rd group the future. Supposedly, the entire timeline goes from the most distant past to the most distant future, so card 1 would be the oldest experience in the seeker's life, card 9 the most distant future.
However, as with most divinations, the cards will tell their own story. I've found that sometimes cards are grouped to complement each other, for example one seeker's past grouping contained a card showing a hard life (verified by the reader) grouped with the apprenticeship card, probably to indicate that past hard times were part of his education and conditioning, or perhaps that his training was able to save him from that hard life.
I've found that seekers always understand the message as the card meanings and positions are explained. They'll recognize significant information as it is presented, and divination will find its own techniques to get the message across.
Other Layouts
There are many, many other Tarot layouts; entire books have been written on the subject. The above layouts are just a starting point. Many different layouts can be selected and tried by the reader over time, and layouts with the best results can be incorporated into regular readings.